Roast Turkey

Click to add
Roast Turkey
to your Favourites...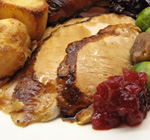 No Christmas or Thanksgiving is complete without an extrodinary amount of turkey, ideally far more than you could ever hope to eat. This is our method for cooking the perfect turkey with moist meat and beautifully bronzed skin.
Ingredients
1 × 4kg turkey
100g unsalted butter
260g onion (2)
Preparation Time: 10 minutes
Cooking Time: 2 hours (+ 20 minutes resting time)
Serves: 6
Method
Preheat the oven to 180°c.
Remove the hairy root and the very top of the onions, then slice them with their skin on, into 1cm thick slices, going across the onion.
Put the onion slices in two rows going down the roasting tin.
Place the turkey into a roasting tin, sitting on top of the onion, with the breast side down. Then rub it with the butter and season it all over with salt & pepper.
Put the turkey into the oven on the middle shelf and cook it for 1 hour.
After the hour, turn the turkey over so it is breast side up and cook for a further 30 minutes.

Then cover the turkey in tin-foil and put it back into the oven to cook for a further 30 minutes. Make sure the foil is tucked around the turkey and inside the roasting tin (this keeps any juices or moisture inside the tin).
Remove it from the oven and allow it to rest for at least 20 minutes (it can be allowed to sit, covered in the foil, for up to 1 hour and still be hot enough to serve).
Transfer the turkey to a chopping board, carve it and serve. We served it with the traditional, Christmas dinner accompaniments of roast potatoes, braised red cabbage, brussel sprouts, roast vegetables, sausages wrapped in bacon (called "pigs in blankets"), cranberry sauce and gravy.
Back to top

Useful Information
Can it be frozen? No.
Can it be prepared in advance? No.
Will leftovers be nice? Yes, for up to 3 days.
Notes
- If you have a turkey of a different weight to ours (4kg), the cooking time is 30 minutes per 1kg. Turn the turkey over halfway through its cooking time and then three-quarters of the way through the cooking time cover it in tin-foil.
- If you have a frozen turkey, put it into the fridge to defrost 2 days in advance.

Recipe Options