Cranberry Sauce

Click to add
Cranberry Sauce
to your Favourites...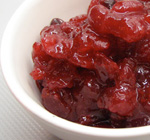 Traditionally served at Christmas, cranberry sauce is more of a jam than a pouring sauce. It has a sharp, slightly sour taste that helps to cut through the fattiness of roast meat.
Ingredients
150ml orange juice
300g fresh cranberries
200g caster s
Preparation Time: 40 minutes
Cooking Time: N/A
Serves: 4 - 5
Method
Measure out all the ingredients and wash the cranberries.
Put the orange juice and the sugar into a pan over a medium heat. Stir it until the sugar has dissolved and the mixture has come to the boil.
Put the cranberries into the pan.
Cook the cranberries for 5 minutes until they have strated to break down and become mushy.
Take the pan off the heat and tip the cranberry sauce into a bowl to cool. When the sauce has reached room temperature, put it into the fridge until it is needed.
Serve.
Back to top

Useful Information
Can it be frozen? Yes.
Can it be prepared in advance? Yes, it can be finished up to 1 day in advance.
Will leftovers be nice? Yes, for up to 1 day.
Notes
- Cranberry sauce is traditionally served with the roast turkey at Christmas but it goes equally well with other roast birds such as pheasant, guinea fowl or partridge... or chicken.

Recipe Options