Roast Potatoes

Click to add
Roast Potatoes
to your Favourites...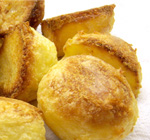 Two methods of perfectly roasting a potato, both following the guiding principle of hot fat and floury potatoes.
Ingredients
100g-150g of uncooked floury potatoes per person
cooking fat (see individual methods below for preferred fat variety)
Method
Quick Method

Preparation Time: 15 minutes
Cooking Time: 40 minutes

Preheat oven to 200°c.
Cover the bottom of a roasting tin with cooking oil (preferably, a light olive oil) and put in oven to heat up.
Chop potatoes into approximately 4cm pieces.
Once the oil has been heating for 15 minutes, carefully (to avoid the oil splashing) put the potatoes in the roasting tin, season with salt & pepper and cook in the oven for 20 minutes.
After 20 minutes turn the potatoes over, baste them with the oil using a spoon and cook them for a further 20 minutes.
Can it be frozen? No.
Can it be prepared in advance? No.
Will leftovers be nice? No.
Notes
- Peeling the potatoes is optional, however, leaving the skins on adds more flavour.

Traditional Method
Preparation Time: 10 minutes
Cooking Time: 30 minutes
Preheat oven to 200°c.
Put plenty of olive oil or (preferably) goose fat in a roasting tin (there needs to be about ½cm depth of fat in the tin) and place it in the oven for at least 15 minutes.
Peel the potatoes, cut them into roughly 4cm pieces and put them into a pan with enough salted, boiling water to cover them.
Boil the potatoes for five minutes.
After five minutes, drain the potatoes and gently shake them in the pan to lightly rough up the outsides (do not over-shake them or they might disintegrate).
Carefully place the potatoes into the roasting tin and, using a spoon, coat them with the fat.
Cook for 30 minutes, turning them over halfway through cooking.
When the potatoes are cooked, put them on a piece of kitchen paper to drain off any excess fat and then season them with salt & pepper.
Back to top

Useful Information
Can it be frozen? No.
Can it be prepared in advance? No.
Will leftovers be nice? No.
Notes
- The reason for boiling the potatoes is to soften the outside so that, when you roughen them up in the pan, the outside of the potato becomes more easily penetrated by the fat and this turns it crispy.

Recipe Options