Gravy (Jus)

Click to add
Gravy (Jus)
to your Favourites...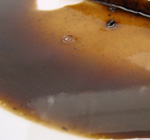 This is a classic, quick and easy gravy made from the natural juices produced when roasting a piece of meat.
Ingredients
250ml red wine
500ml stock
10g plain flour
10g unsalted butter
Preparation Time: 5 minutes
Cooking Time: 15 minutes
Serves: 3 - 4
Method
After the meat has finished roasting, remove the meat from the roasting tin and set it aside to rest. Pour out any fat from the roasting tin.
Put the butter and flour into a bowl and mash them together with a fork until it has formed a smooth paste (this is known as a beurre manié)
Put the roasting tin onto your hob over a medium heat, pour in the red wine and, using a wooden spoon, scrape the bottom of the roasting tin to detach all the tasty goodness stuck to it.
Bring the wine to the boil and reduce it by half.
Pour in the stock, bring it to the boil and reduce it by a third.
Add the beurre manié to the roasting tin and whisk it in until it is fully incorporated and there are no lumps.
Continue to boil the sauce for a further 2 minutes to thicken it (this also cooks out the raw taste of the flour).
Season the sauce with salt & pepper and serve.
Back to top

Useful Information
Can it be frozen? Yes.
Can it be prepared in advance? No.
Will leftovers be nice? Yes, for up to 3 days.

Recipe Options