Braised Red Cabbage

Click to add
Braised Red Cabbage
to your Favourites...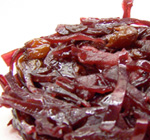 This is a strongly flavoured, pungent, sweet and sharp recipe for red cabbage that goes very well with fattier meats such as pork.
Ingredients
½ red cabbage
35g shallot (1)
70g soft brown sugar
50g raisins
8cm stick of cinnamon
130g apple (1)
100ml red wine
40ml red wine vinegar
20g unsalted butter
1 tablespoon of olive oil
Preparation Time: 15 minutes
Cooking Time: 2 hours
Serves: 4
Method
Remove the hard white core of the cabbage and thinly slice the leaves, finely dice the shallot and peel, de-core and chop the apple into roughly 1cm cubes.
Heat the oil and butter in a sauce pan, put in the shallot and cabbage and fry them for about 5 minutes until they have slightly softened.
Add the sugar and when it has dissolved, put in the rest of the ingredients and season with salt & pepper.
Cover the pan with a lid and over a very gentle heat, cook for two hours.
Remove the cinnamon stick and serve.
Back to top

Useful Information
Can it be frozen? Yes.
Can it be prepared in advance? Yes, it can be finished up to 3 days in advance.
Will leftovers be nice? Yes, for up to 3 days.

Recipe Options