Roast Duck

Click to add
Roast Duck
to your Favourites...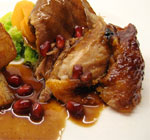 Whole roast duck is delicious on its own but the marmalade glaze raises it to a whole other dimension and makes a nice change to the more traditional roast chicken on a Sunday lunch. Serve with all the same accompaniments that you would normally and enjoy.
Ingredients
1 × 3kg duck
125g marmalade
Preparation Time: 5 minutes
Cooking Time: 1 hour 30 minutes (30 minutes per )
Serves: 4
Method
Preheat the oven to 210°c.
Place the duck breast side up on a rack in a roasting tin and put it into the oven for 1 hour (⅔ of the time it needs to cook).
Take the duck out of the oven and pour the fat from the roasting tin into a container. (Keep this fat as it is fantastic to roast potatoes in.)
Paint the marmalade onto the duck using a brush or just a spoon, and place it back into the oven for the remaining time.
Remove the duck from the oven and let it rest for 20 minutes before carving.
We served it with roast parsnips, sliced Savoy cabbage and carrot and a pomegranate duck jus.
Back to top

Useful Information
Can it be frozen? Yes, keep the meat and bones separate
Can it be prepared in advance? No.
Will leftovers be nice? Yes, for up to 3 days.
Notes
- The fat drained from the duck in step 3 can be used as or added to the fat used to cook your roast potatoes (if you are having them). Just pour the fat into another roasting tin and, if your duck is a 3kg bird like ours, your potatoes should be cooked just in time to serve. Alternatively, when it is cool, you can keep the fat in the freezer until it is needed.

Recipe Options