Poussin with herb butter

Click to add
Poussin with herb butter
to your Favourites...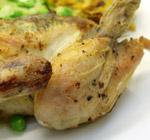 A simple recipe but very delicious none the less. It makes a nice alternative to plain roast chicken, as wonderful as it is.
Ingredients
120g unsalted butter
1 clove of garlic
2 tablespoons of finely chopped parsley
2 × 500g poussins
Preparation Time: 30 minutes
Cooking Time: 1 hour
Serves: 4
Method
Heat the oven to 180°c.
In a bowl place the ingredients for the herb butter, make sure the butter is really soft but not melted. Crush the garlic with the back of a knife and a little salt to make a puree. Chop the parsley finely and season the whole lot with salt & pepper.
Mix it all together.
Using your hand (gloved or ungloved), push your fingers under the skin at the neck end of the bird until the skin is loose from the breast meat to create a pocket. Take care not to push too forcefully or the skin might break.
Take a small hand full of the herb butter and slide it, as best as you can, under the skin, pushing it right to the end of the breast. Keep packing it in evenly and then massage it in to any areas that have none.
Place the poussin into the oven and roast for 1 hour, basting every now and then.
After the time remove the birds from the oven and leave to rest for 30 minutes. The best way to serve them, in our opinion, is to cut them in half and just put them on the plate. We served the poussin with pan roast potatoes, peas lyonnaise (peas and sweated onions) and pumpkin stuffing.
Back to top

Useful Information
Can it be frozen? No.
Can it be prepared in advance? Yes, you can stuff the poussin and keep it in the fridge, uncooked, up to 1 day in advance.
Will leftovers be nice? Yes, for up to 3 days.
Notes
- You can of course apply the same technique to a larger chicken or turkey which will add just that little bit of difference to your Sunday roast or even Christmas dinner!

Recipe Options