Pumpkin Stuffing

Click to add
Pumpkin Stuffing
to your Favourites...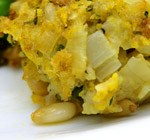 This stuffing recipe comes in very handy when one is faced with the ubiquitous carved halloween pumpkin after the celebrations. Not only is this a great accompaniment to meat dishes but it can also be a great vegetarian main course.
Ingredients
170g onion (1)
1 clove of garlic, peeled
small bunch of thyme
small bunch of parsley
150g pumpkin
80g fresh breadcrumbs
1 egg
40g pine nuts
50g unsalted butter, melted
¼ teaspoon grated nutmeg
Preparation Time: 15 minutes
Cooking Time: 45 minutes
Serves: 4 - 6
Method
Heat the oven to 180°c.
Cut the top and bottom off the pumpkin and peel it completely. Grate the flesh with a hand held grater or the attachment on your food processor. Finely chop the onion, thyme, parsley and garlic.
Place all the ingredients into a large mixing bowl, stir it all together and season it with salt & pepper. Pile the stuffing mix into a suitably sized dish.
Put the dish into the oven and cook it for 45 minutes.
After the time remove the dish from the oven and let it rest for 5 minutes to let it settle.
Serve.
Back to top

Useful Information
Can it be frozen? Yes, for 3 months, at stage 2.
Can it be prepared in advance? No.
Will leftovers be nice? Yes, for 2 days.

Recipe Options