Rack of Lamb

Click to add
Rack of Lamb
to your Favourites...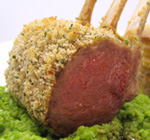 This is the definitive method for cooking the French classic, rack of lamb, ideal for dinner parties.
Ingredients
2 racks of lamb (6 - 7 ribs each)
15g unsalted butter
1 tablespoon of olive oil

For the crust:

50g breadcrumbs
1 bunch of parsley
2 cloves of garlic
2 teaspoons Dijon mustard
Preparation Time: 20 minutes
Cooking Time: Up to 15 minutes for well-done
Serves: 4
Method
Pre-heat the oven 200°c.
Trim off any fat or sinew from the meat and clean the bones by scraping them with a knife.
Season the lamb with salt & pepper.
Heat the oil and butter in a frying pan over a high heat and fry the lamb until it is brown all over (you just want to colour the outside of the meat, not cook it through). Then remove the lamb from the pan.
Finely chop the parsley and garlic, mix them into the breadcrumbs and season with salt & pepper.
Spread the mustard onto each rack.
Coat the lamb in the crust mixture, gently patting it onto the mustard.
Transfer the rack to a roasting tin and place in the oven.
Cook for 5 minutes for rare; cook for 7 minutes for medium ("pink"); cook for 15 minutes for well done.
Remove from the oven and allow the meat to rest for at least 10 minutes.
Cut into portions and serve. In this picture, we served it with a potato stack, pea purée and a lamb pan sauce.
Back to top

Useful Information
Can it be frozen? No.
Can it be prepared in advance? Yes, up to 1 hour to stage 5.
Will leftovers be nice? Yes, for up to 3 days.

Recipe Options