Coarse Pea Purée

Click to add
Coarse Pea Purée
to your Favourites...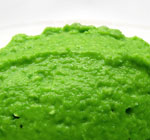 This surprisingly simple vegetable dish has a bright green colour and an intense, almost fragrant, flavour that lends itself particularly well to lighter dishes, such as chicken or pork.
Ingredients
300g frozen peas
1 tablespoon of double cream
Preparation Time: 5 minutes
Cooking Time: 5 minutes
Serves: 3
Method
Put the frozen peas into a bowl of luke warm water for about 2 minute to partially thaw them.
Drain off the water and put the peas into a food processor.
Blend the peas to a coarse purée.
Scrape the peas down from the side of the food processor with a spatula, add the cream, season with salt & pepper, and blend for a further 30 seconds.
Transfer the purée to a pan and heat gently for about 5 minutes until it is hot.
Serve.
Back to top

Useful Information
Can it be frozen? Yes.
Can it be prepared in advance? Yes, it can be finished up to 2 days in advance.
Will leftovers be nice? Yes, for up to 2 days.
Notes
- You can make this into a smooth pea purée by passing it through a sieve when it is hot.

Recipe Options