Potato Stacks

Click to add
Potato Stacks
to your Favourites...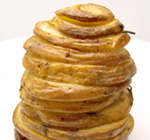 A delicious varient on the roast potato that looks impressive and is also actually quite fun to eat.
Ingredients
2 × 100g - 150g floury potatoes
2 tablespoons of olive oil
sprig of rosemary (optional)
sprig of thyme (optional)
1 clove of garlic (optional)
2 × cocktail sticks
Greaseproof paper
Preparation Time: 10 minutes
Cooking Time: 25 minutes
Serves: 2
Method
Preheat the oven to 200°c
Thinly slice the unpeeled potato and place them in a bowl.
Roughly chop the garlic and add it with the thyme, rosemary and oil to the bowl, season with salt & pepper, and gently toss the potatoes to coat each slice.
If your baking tray is not non-stick, line it with a piece of greaseproof paper.
Find the two largest slices and put each of them on the baking tray. Push a cocktail stick into the centre of each slice and then thread the next largest slice on top of the first one. Continue threading the slices on until you have finished each stack, making sure to leave a small amount of cocktail stick poking out of the top.
Bake in the oven for 25 minutes.
To serve, put the potato stack on the plate, place a fork over the end of the cocktail stick and carefully pull it out.
Back to top

Useful Information
Can it be frozen? No.
Can it be prepared in advance? Yes, up to 3 hours to stage 5.
Will leftovers be nice? No.
Notes
- The potato can stick to the roasting tin if it is not non-stick, the greaseproof paper helps to prevent this.

Recipe Options