Roast Beef

Click to add
Roast Beef
to your Favourites...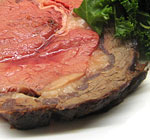 This classic dish is the epitome of the traditional, English Sunday roast dinner.
Ingredients
1 × beef roasting joint
2 tablespoons of vegetable oil
Preparation Time: 10 minutes
Cooking Time: up to 80 minutes for well-done
Serves: 250g per person
Method
Preheat the oven to 180°c.
Season the outside of the meat with salt & pepper.
Heat the oil in a large frying pan and then carefully place the meat in and fry it on all sides until it is brown all over (Tip: use barbeque tongs to turn it).
Put the beef in a roasting dish, put it into the oven and cook it for:
20 minutes per kilo for rare
27 minutes per kilo for medium-rare
35 minutes per kilo for medium
43 minutes per kilo for medium-well
50 minutes per kilo for well-done.
Remove the beef from the oven and allow it to rest for at least 15 minutes.
Carve the meat into slices and serve. We served it with yorkshire puddings, roast potatoes, roast parsnips, glazed carrots and wilted kale.
Back to top

Useful Information
Can it be frozen? No.
Can it be prepared in advance? No.
Will leftovers be nice? Yes, for up to 3 days.
Notes

Recipe Options