Glazed Carrots

Click to add
Glazed Carrots
to your Favourites...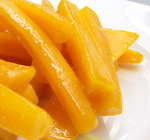 This is a ridiculously easy method for making plain old boiled carrots more exciting.
Ingredients
180g carrots (3)
15g unsalted butter
2 teaspoons of sugar
Preparation Time: 5 minutes
Cooking Time: 12 minutes
Serves: 2
Method
Peel the carrots and chop them into your preferred shape (we chose batons).
Put the carrots into a pan and pour on enough boiling water to completely cover them.
Bring the water up to the boil, season the water with salt and boil the carrots for 10 minutes until they are soft.
Drain off the water, return the pan to the heat and put in the butter and sugar.
Stir or toss the carrots until the sugar has dissolved in the melted butter.
Serve.
Back to top

Useful Information
Can it be frozen? No.
Can it be prepared in advance? No.
Will leftovers be nice? No.
Notes
- The sugar complements the natural sweetness of the carrots without making them taste obviously sugary and the butter gives them a wonderful, glossy shine.
- They are also known as Vichy carrots and can be a nice alternative to just plain boiled carrots.

Recipe Options