Braised Chicory

Click to add
Braised Chicory
to your Favourites...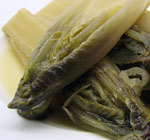 This is an interesting way of cooking chicory that takes the bitter edge off it and goes especially well with fish or roasted meats.
Ingredients
Preparation Time: 5 minutes
Cooking Time: 20 minutes
Serves: 3
Method
Cut the chicory in half lengthways, peel and slice the shallot, peel and finely chop the garlic.
Put all the ingredients into a saucepan, putting the stock in last, then season with salt & pepper.
Bring the stock up to the boil, turn down the heat to a gentle simmer and cook for 15 minutes.
Remove the chicory from the pan and serve.
Back to top

Useful Information
Can it be frozen? No.
Can it be prepared in advance? Yes, to stage 4 up to 1 day in advance (reheat it with a small amount of stock in a pan or in the oven).
Will leftovers be nice? Yes, for up to 1 day.
Notes
- You can make a sauce by reducing the cooking liquor by half and adding 100ml of double cream.

Recipe Options