Chicken Stock

Click to add
Chicken Stock
to your Favourites...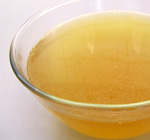 The definitive method for making a clear chicken stock.
Ingredients
1 chicken carcass (preferably raw)
130g onion (1)
130g carrot (2)
130g celery (2 sticks)
130g leek (2 small)
2 bay leaves
1 small bunch of parsely
1 sprig of thyme
1 small sprig of rosemary
1 teaspoon of peppercorns
2.5 litres of cold water
Preparation Time: 10 minutes
Cooking Time: 2 hours
Serves: convo("2 litres"); ?> of stock
Method
Peel the onion and carrot and chop them, with the celery, into 3cm pieces.
Remove the root and the green of the leek and chop it into 3cm pieces.

Put everything into a large pot, then put the water in and bring it to the boil.

When it starts to boil, turn it down to a low heat and remove all the scum that floats to the surface with a ladle.

Simmer gently for 2 hours.
Using a fine sieve, strain the liquid into a bowl, discarding the bones, vegetables and herbs.
Allow the stock to cool naturally and use as required.

Back to top

Useful Information
Can it be frozen? Yes.
Can it be prepared in advance? Yes, it can be finished up to 3 days in advance.
Will leftovers be nice? Yes, for up to 3 days.
Notes
- The reason for skimming the scum off the surface of the liquid is to help prevent the stock going cloudy.
- When simmering the stock, make sure the heat is very low, there should be hardly any bubbles breaking the surface. Boiling the stock will result in it becoming bitter and cloudy.
- To make brown chicken stock, roast the carcass, carrots and onion in a 170°c oven for 40 minutes before putting them in the pot.

Recipe Options