Braised Green Cabbage

Click to add
Braised Green Cabbage
to your Favourites...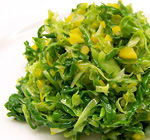 A good recipe that transforms the humble cabbage into an elegant, interesting and tasty vegetable accompaniment.
Ingredients
100g Savoy cabbage
40g peeled and finely diced carrot (½)
35g peeled and finely diced shallot (1)
65ml white wine
1 tablespoon of olive oil
15g unsalted butter
Preparation Time: 10 minutes
Cooking Time: 15 minutes
Serves: 2
Method
Peel and finely dice the carrot and shallot.
Finely shred the cabbage leaves.
In a pan, heat the oil and butter over a medium heat and cook the carrot and shallot for about 5 minutes until they are soft.
Add the wine and boil for 1 minute (to evaporate the alcohol).
Add the stock and bring back to the boil.
Put the cabbage in to the pan, stir and cover with a lid and cook for 5 minutes.
Drain off the liquid through a sieve, return the cabbage to the pan, season with salt & pepper and serve.
Back to top

Useful Information
Can it be frozen? No.
Can it be prepared in advance? Yes, up to 1 day to stage 3.
Will leftovers be nice? No.
Notes
- This recipe can be done with any cabbage (although the cooking times may vary, the best way to test if the cabbage is cooked is to actually try some from the pan).

Recipe Options