Vegetable Soup

Click to add
Vegetable Soup
to your Favourites...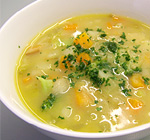 This is a quick, simple and delicious soup that can be endlessly varied and can be a great way to use up any leftover vegetables.
Ingredients
70g shallot (2) or onion (½)
100g carrot (2)
100g leek (1)
100g celery (2 sticks)
60g broccoli (1 small head)
200g potato (2)
2 tablespoons of olive oil
Preparation Time: 10 minutes
Cooking Time: 25 minutes
Serves: 2
Method
Peel and dice the shallot (or onion), carrot, leek, celery, broccoli and potato.
Heat the oil over a medium heat in a large saucepan, then add the shallot (or onion), carrot, leek and celery.
Cook for about 10 minutes, until the onion and leek has become soft and translucent.
Add the potato and the stock and simmer it for 10 minutes.
Add the broccoli and cook it for a further 2 minutes.
Season the soup with salt & pepper and then ladle it into bowls. We garnished it with some finely chopped parsley.
Serve.
Back to top

Useful Information
Can it be frozen? Yes.
Can it be prepared in advance? Yes, it can be finished up to 3 days in advance.
Will leftovers be nice? Yes, for up to 3 days.
Notes
- This recipe makes a chunky vegetable soup. To make a smooth soup, simply put the soup into a liquidizer after stage 5 and add more stock (or water) until it reaches your desired consistency.
- You can put any vegetables you like (or have) into this soup, provided they are cut into similarly sized pieces. As a rule of thumb, harder vegetables should go in at stage 4 and softer vegetables should go in at stage 5.
- This recipe is exactly the same as the recipe for chicken soup but without the chicken.

Recipe Options