Chicken Pie

Click to add
Chicken Pie
to your Favourites...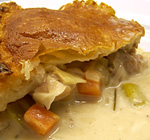 A simple recipe for chicken pie with a filling that can be endlessly varied but is almost always guaranteed to be delicious.
Ingredients
500g shop-bought puff-pastry
1 egg yolk
1 tablespoon of water
Preparation Time: (45 minutes for the filling) + 10 minutes
Cooking Time: 30 minutes
Serves: 4
Method
Make the chicken stew
Preheat the ovan to 200°c.
Roll out the pastry to a thickness of ½cm.
Place a 20.3cm pie dish, upside-down, in one corner of the pastry and cut out a circle of pastry using the pie dish as a template. This will form the lid of the pie.
Turn the pie dish the right way up and line it with the remaining pastry, trimming off any excess and filling any gaps.
Place the chicken stew into the pie dish and brush the rim of the pastry with water.
Carefully place the lid on top and seal the pastry by crimping the edges together (also known as scalloping).
Mix the water and egg yolk together and brush it over the top of the pie. You can decorate the top of the pie by using the excess pastry to make decorations such as leaves, flowers or the frieze of a hunting scene, depending on how much time you have. We chose not to.
Place the pie in the middle shelf of the oven on a baking tray for 30 minutes, or until the pastry has risen and is golden brown.
Cut into slices and serve.
Back to top

Useful Information
Can it be frozen? Yes.
Can it be prepared in advance? Yes, but only to stage 1.
Will leftovers be nice? Yes, up to 2 days but the pastry will be soggy.

Recipe Options