White Chicken Stew

Click to add
White Chicken Stew
to your Favourites...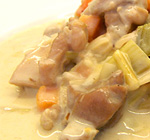 This is a basic, but absolutely delicious, recipe for a simple chicken stew.
Ingredients
180g cubed chicken (preferably the dark meat)
60g diced carrot (1)
70g chopped shallot (2) or onion (½)
65g chopped leek (1 small)
1 clove of finely chopped garlic
1 bay leaf
200ml of chicken voluté
100ml double cream
100ml white wine
2 tablespoons of vegetable oil
Preparation Time: 25 minutes
Cooking Time: 20 minutes
Serves: 2
Method
Make the 200ml of chicken voluté and prepare the rest of the ingredients.
In a large pan, heat one of the tablespoons of oil and then add the chicken. Fry it until it is beginning to turn brown and then transfer it to a bowl or plate.
In the same pan, heat up the remaining tablespoon of oil and put in the shallot (or onion), carrot, leek and garlic. Fry them until they softened.
Put in the white wine and bay leaf, bring it up to the boil and reduce the wine by half. Then mix in the chicken and season with salt & pepper.
Pour in the voluté, bring it up to a gentle simmer and cook it for 20 minutes with the lid on, stirring regularly.
Add the cream, check the seasoning and serve.
Back to top

Useful Information
Can it be frozen? Yes.
Can it be prepared in advance? Yes, it can be finished up to 2 days in advance.
Will leftovers be nice? Yes, up to 2 days.
Notes
- This is only one version of a chicken stew and you can vary the ingredients as much as you like.

Recipe Options