Toad in the Hole

Click to add
Toad in the Hole
to your Favourites...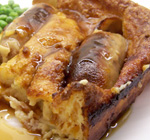 This traditional British dish has, perhaps, one of the most misleading and off-putting names in culinary history. It is, in fact, composed of Yorkshire pudding and sausages and is great as a weekday dinner.
Ingredients
170g plain flour
2 eggs
1 teaspoon of Dijon mustard
1 teaspoon of salt
100ml milk
100ml water
8 raw sausages
Some vegetable oil or lard (see below)
Preparation Time: 5 minutes (+ up to 1 hour to rest the batter)
Cooking Time: 35 minutes
Serves: 3 - 4
Method
Put all the ingredients except for the sausages and oil into a bowl and whisk them together to form the batter.
Pour the batter through a sieve into a pouring jug, put a piece of cling-film/plastic-wrap on the surface of the mixture to prevent a skin forming and leave it to stand in the fridge for 1hr (it can be used straight away but it is preferable to let the batter stand).
Pre-heat the oven to 200°c.
Pour enough oil or lard into a roasting tin to only just cover the bottom and put it into the oven for 15 minutes to heat up.
Ideally with the roasting tin still in the oven, place in your raw sausages and then evenly pour the batter over the sausages (to put the batter and sausages in, it can be a lot easier to remove the tin from the oven, however, transporting the tin full of liquid batter back to the oven can be quite hazardous).
With the roasting tin back in the oven, cook it for 35 minutes.
Remove it from the oven and serve. We served it with garden peas and an onion gravy (because of the batter, toad in the hole doesn't really need a potato dish).
Back to top

Useful Information
Can it be frozen? Yes.
Can it be prepared in advance? Yes, up to 1 day to stage 2.
Will leftovers be nice? Yes, for up to 3 days (reheat it in the oven, do not microwave cooked sausages).

Recipe Options