Onion Gravy

Click to add
Onion Gravy
to your Favourites...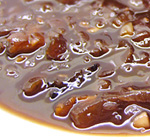 This rich, dark onion gravy goes extremely well with all manner of dishes but especially with sausage and mash.
Ingredients
240g onion, preferably a red onion (2)
1 clove of garlic
2 teaspoons of seedless raspberry jam
1 teaspoon of Dijon mustard
1 teaspoon of thyme leaves
1 bay leaf
500ml beef stock
125ml red wine
2 tablespoons of masala, armagnac or dry sherry (optional)
15g unsalted butter
1 tablespoon of oil
Preparation Time: 5 minutes
Cooking Time: 40 minutes
Serves: 2 - 3
Method
Peel and dice the onion. Peel and finely chop and garlic.
In a frying pan, heat the oil and butter over a medium heat and cook the onion until it has completely softened and is beginning to turn brown.
Add the garlic and thyme and fry for a further 1 minute.
Add the masala, armagnac or sherry and the bay leaf, stir it in and then mix in the red wine, mustard and seedless raspberry jam.
Reduce the wine until it has reached a syrupy consistency, then add the beef stock and season with salt & pepper.
Simmer until it has reduced by half.
Taste the gravy, adjust the seasoning if necessary, remove the bay leaf and serve.
Back to top

Useful Information
Can it be frozen? Yes.
Can it be prepared in advance? Yes,it can be finished up to 3 days in advance.
Will leftovers be nice? Yes, for up to 3 days after it is made.
Notes
- If you can't get seedless jam, you can use normal jam but push it through a sieve first to remove the seeds.

Recipe Options