Pan Fried Quail

Click to add
Pan Fried Quail
to your Favourites...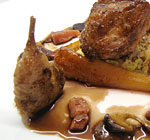 Quail is in season all year round but at its best from June to September. The meat is mild in flavour and benefits from quick cooking like most game.
Ingredients
3 × whole quail
2 tablespoons of vegetable oil
30g unsalted butter
Preparation Time: 20 minutes
Cooking Time: 4 minutes
Serves: 3
Method
First, remove the wish bone from the neck. Pull the skin up towards the breast meat to expose the wish bone, slice down either side of the bone and release it with your fingers until it snaps out.
Second, remove the breasts from the quail. Slice down the breast bone with a very sharp straight knife. Keep the knife next to the breast bone and continue to slice the breast meat away until it comes off in one piece. Do the same on the other side and place the meat onto a plate.
Next, remove the legs. Pop out the thigh bone and slice down between the ball and socket. Slice underneath the leg and around so you get as much meat as possible. Remove the upper thigh bone by pushing your thumb and index finger underneath it and slide it along to release the bone, then simply snap it off. Repeat this for all the other legs and place them onto the plate with the breast meat.
Heat the oil and butter in a frying pan over a medium heat. When the butter has stopped fizzing place the breasts and legs into the pan, skin side down. Cook them for 2 minutes until they are golden brown, then turn only the breasts over.
Cook them for a further 1 minute before turning the legs over. Then, after another 1 minute, take the breasts out and continue to cook the legs for a further 1 minute.
Breasts: first side = 2 minutes, second side = 2 minutes
Legs: first side = 3 minutes, second side = 2 minutes.
Remove the breasts and legs respectively and place them onto a clean plate to rest for 5 minutes before serving. We served the quail with roast parsnips, braised green cabbage and a wild mushroom and smoked pancettia quail jus.
Back to top

Useful Information
Can it be frozen? No.
Can it be prepared in advance? Yes, to step 3, up to 3 days in advance.
Will leftovers be nice? Yes, for up to 3 days.

Recipe Options