Steamed Thai Fish

Click to add
Steamed Thai Fish
to your Favourites...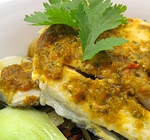 For the health conscience, this recipe is virtually fat free and is very high in flavour. It takes very little time to make and can be hugely varied with almost any other ingredients you like.
Ingredients
100g fish fillets per person (we used 300g of sea-bass)
15g coriander, stalks and all
½ teaspoon tomato purée
1 tablespoon hoi sin sauce
1 teaspoon ground ginger
1 teaspoon Thai seven spice
a few shakes of soy sauce
Preparation Time: 5 minutes
Cooking Time: 5 minutes
Serves: 3
Method
Roughly chop the coriander, including the stalks, and then place all the ingredients, except the fish, into a food processor.
Thoroughly blend them until it forms a paste.
Evenly spread some of the paste onto the flesh side of each piece of fish.
In your steamer, line the bottom with leafy green vegetables such as pak choi or cabbage leaves and place the fish on top.
Put about 4cm of water into a pan large enough to hold your steamer and bring it up to the boil.
Put the steamer over the pan, put the lid on the steamer and steam the fish for 5 minutes.
When the fish is cooked, carefully take it out of the steamer and serve with the vegetables. We also served the fish with a Thai noodle broth.
Back to top

Useful Information
Can it be frozen? No.
Can it be prepared in advance? No.
Will leftovers be nice? Yes, if eaten cold, for up to 2 days.
Notes
- You could try this recipe with a curry paste or turn it into a Chinese influenced dish. Even something as simple as putting olive oil, lemon juice, pepper and salt on the fish would be delicious.

Recipe Options