Fruit Crumble

Click to add
Fruit Crumble
to your Favourites...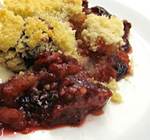 This is a traditional British pudding of stewed fruit topped with a sweet, crumbly topping that goes exceptionally well with custard.
Ingredients
250g plums (3)
250g apple (2)
150g caster sugar
½ teaspoon ground cinnamon
100ml Pimm's No.1 or a sweet wine or water
100g raspberries
100g blueberries
20g unsalted butter

For the crumble topping:

200g plain flour
100g caster sugar
100g unsalted butter
Preparation Time: 30 minutes
Cooking Time: 35 minutes
Serves: 6
Method
Cut the plums in half, remove the stones and cut them into bite-sized pieces. Peel the apple, remove its core and cut it into bite-sized pieces. (This recipe is mainly about the method and can be made with any fruit you like.)
In a pan, place the 20g of butter and melt it over a medium heat. When the butter has melted, place the plums, apple, sugar and cinnamon into the pan and cook them with the lid on for 7 minutes.
Add the Pimm's No.1, sweet wine or water, stir it in and cook the fruit mixture for a further 5 minutes.
After the time, remove the pan from the heat and stir in the raspberries and blueberries, leave to sit in the pan while you make the crumble topping.
Preheat the oven to 180°c.
Place all of the crumble topping ingredients into a food processor and turn it on, blend the mixture until it resembles fine breadcrumbs. Alternatively, to do it by hand, put all of the topping ingredients into a bowl and rub them together with your fingers until they resemble breadcrumbs. (With either method, the mixture should be very light and loose.)
Pour the fruit mixture into an ovenproof dish, lightly pour the crumble topping on top of it and even it out (make sure you don't press it down or it will become dense).
Place the crumble into the oven and bake it for 35 minutes.
Serve with custard, ice cream and/or double cream.
Back to top

Useful Information
Can it be frozen? Yes.
Can it be prepared in advance? Yes, up to 1 day to stage 7.
Will leftovers be nice? Yes, for up to 3 days.

Recipe Options