Custard

Click to add
Custard
to your Favourites...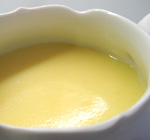 This is a highly versatile dessert sauce, ideal for hearty puddings such as crumble or pies.
Ingredients
2 egg yolks
290ml milk
2 teaspoons corn flour
125g caster sugar
1 teaspoon vanilla extract or essence (optional but highly recommended)
100ml double cream
Preparation Time: 5 minutes
Cooking Time: 5 minutes
Serves: 4 - 5
Method
Into a bowl, place the egg yolks, sugar and corn flour.
Mix them to a smooth paste.
Heat the milk in a pan so it begins to boil, then pour the milk into the bowl with the egg mixture and whisk it until it is completely incorporated.
Pour this into a clean pan to avoid getting any lumps, place it over a medium heat and bring it to a gentle boil, stirring all the time with a whisk. Cook it for about 5 minutes until it has become thick.
Take the pan off the heat and stir in the cream and vanilla extract or essence.
Pour the custard into a serving jug and serve.
Back to top

Useful Information
Can it be frozen? No.
Can it be prepared in advance? Yes, it can be finished up to 1 day in advance.
Will leftovers be nice? Yes, for up to 1 day.
Notes
- If you find that there are lumps in the custard after making it, you can simply push it through a sieve to remove them.

Recipe Options