Apple Tart

Click to add
Apple Tart
to your Favourites...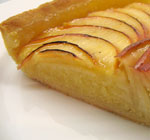 This is a simple, light and delicious apple and frangipane tart that looks the business. Serve hot with lashings of double cream or a generous scoop of vanilla ice cream with a loved one. Perfect.
Ingredients
600g apples (4)
3 tablespoons caster sugar
1 × sweet pastry

For the almond frangipane filling:

125g unsalted butter
100g caster sugar
2 eggs
1 egg yolk
125g ground almonds
25g flour
4 tablespoons Amaretto or Brandy
Preparation Time: 40 minutes (+40 minutes for the sweet pastry)
Cooking Time: 25–30 minutes
Serves: 8–10
Method
Make the sweet pastry.
Preheat the oven to 170°c.
Put the butter and sugar into a mixing bowl and beat them together until they are thoroughly combined and light in colour and texture. Then add the eggs.
Mix in the eggs until they are thoroughly combined, then put in the flour and almonds.
Mix the mixture until it is combined, then pour in the Amaretto or brandy and stir that in.
Remove the sweet pastry from the fridge and roll it out to a thickness of about ½cm. Then line a flan ring or tin with a removable bottom with the pastry but don't cut off the excess yet.
Fill the raw pastry case with the frangipane, smoothing it out to an even level so it only comes half way up the side of the pastry case. Then place it into the fridge to firm up.
Keeping the skin on, chop the apples in half and then chop the halves in half again so you have quarters. Chop out the core of each quarter and then slice the apple quarters thinly
Start layering the apple slices onto the tart. We chose to layer them in a band around the tart but you can make any pattern you like. When you have finished layering, dust the top of the tart with the caster sugar.
Put the apple tart into the oven for 25–30 minutes, until the tips of the apple slices have become slightly singed and the frangipane has risen and cooked through.
Remove the tart from the oven and allow it to cool for about 5 minutes before using a sharp knife to cut off the excess pastry, cutting outwards to avoid spilling crumbs into the middle of the tart.
Carefully remove the tart from the flan ring or tin and serve.
Back to top

Useful Information
Can it be frozen? No.
Can it be prepared in advance? Yes, it can be finished up to 3 days in advance and reheated gently in the oven.
Will leftovers be nice? Yes, for up to 3 days.
Notes
- Keeping the excess pastry attached to the tart until after it has been cooked allows the pastry to shrink, as it naturally does, without disappearing underneath the tart filling.

Recipe Options