Sweet Pastry

Click to add
Sweet Pastry
to your Favourites...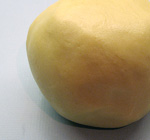 This is a useful and versatile pastry that can be used for all manner of desserts and sweet things.
Ingredients
125g unsalted butter
90g caster sugar
pinch of salt
1 whole egg
1 egg yolk
250g plain flour
Preparation Time: 10 minutes (+30 minutes chilling)
Cooking Time: n/a
Serves: n/a
Method
Thoroughly mix together the sugar and softened butter. Then add the egg and egg yolk.

Stir the egg in until it forms a paste, then sieve in the flour and salt and then stir it all together until it forms a dough. Then take the dough out of the bowl and shape it into a ball.

Press the ball of dough into a disk shape and wrap it with cling-film/plastic-wrap. Place it in the fridge for about 30 minutes to firm up.

Back to top

Useful Information
Can it be frozen? Yes.
Can it be prepared in advance? Yes, it can be finished up to 3 days in advance.
Will leftovers be nice? Erm, not really... it's raw pastry.

Recipe Options