Beef en Croute

Click to add
Beef en Croute
to your Favourites...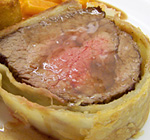 A french classic that can provide a new dimension to your Sunday roast and is perfect for dinner parties.
Ingredients
750g beef roasting joint (e.g. fillet, top rump, etc.)
350g shop-bought puff pastry
3 tablespoons of semolina
1 egg yolk
2 tablespoons of vegetable oil
Preparation Time: 15 minutes + 1½ hours cooling time
Cooking Time: (up to 40 minutes for welldone) + 30 minutes
Serves: 4
Method
Preheat the oven to 200°c.
Season the meat on all sides with salt & pepper, then heat the oil in a frying pan.
Carefully put the meat into the pan and fry it on all sides until it is brown all over, then transfer it to a roasting tin.
Put the meat into the oven for 10 minutes for medium rare, 20 minutes for medium, 30 minutes for medium-well or 40 minutes for well-done. If you like your meat rare, don't put it into the oven and skip this step.
Remove the meat from the oven and allow it to cool in the roasting tin on the work-top until it is room temperature (about 1½hrs).
Roll out the pastry to a thickness of about ½cm.
Put the semolina onto a plate and roll the beef in it to completely coat the meat. Beat the egg yolk in a cup with 1 tablespoon of water.
Put the beef onto the pastry about 5cm from one edge and then roll up the pastry to enclose the meat. Then brush some of the eggwash along the loose edge and press it down to seal the "tube" of pastry.
Diagonally slice off half of the excess pastry at each end to leave a flap of pastry.
Tuck the flap down underneath, and brush some more of the eggwash along the loose flap to seal in the meat.
You can decorate the top using the excess pastry to make decorations such as leaves, flowers or a frieze of the death of Lord Nelson at the battle of Trafalgar, for example, depending on how much time you have.
Brush the whole thing with the eggwash, put it onto a baking tray and put it back in the oven for a further 30 minutes.
Remove from the oven and allow it to rest for 10 minutes before carving it into slices.
Serve. We served it with a fondant potato, glazed carrots and a beef pan sauce.
Back to top

Useful Information
Can it be frozen? No.
Can it be prepared in advance? Yes, up to 24 hours to stage 5 or 12 hours to stage 11.
Will leftovers be nice? Yes, for up to 3 days (but the pastry will be soggy).
Notes
- The semolina is there to absorb any juices that come out of the meat which helps to keep the pastry crisp.

Recipe Options