Squash Mash

Click to add
Squash Mash
to your Favourites...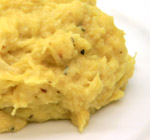 This mashed squash is not only very easy and delicious but it's also quite an interesting dish that makes a great alternative to mashed potato.
Ingredients
400g squash (1)
2 cloves of garlic
½ teaspoon of dried oregano
2 tablespoons of olive oil
2 tablespoons of crème fraîche or sour cream or yoghurt
Juice of ½ a lemon
Preparation Time: 15 minutes
Cooking Time: 30 minutes
Serves: 3
Method
Heat the oven to 200°c.
Cut the squash in half, spoon out the seeds and put the squash into a roasting tin. Then put the whole, un-peeled cloves of garlic into the cavity in each squash, drizzle over the oil, sprinkle over the oregano and season it with salt & pepper.
Put the roasting tin into the oven and roast the squash for 30 minutes.
Take the squash out of the oven and allow it to rest for about 10 minutes, until it is cool enough to handle.
Spoon the flesh out of the squash and discard the skins, then squeeze the garlic out of its skin.
Place both the squash and garlic into a bowl and, using a folk, mash the two together. Add the crème fraîche, sour cream or yoghurt and the lemon juice, mix it all together and check the seasoning.
Serve warm.
Back to top

Useful Information
Can it be frozen? Yes.
Can it be prepared in advance? Yes, it can be finished up to 2 days in advance.
Will leftovers be nice? Yes, for up to 2 days.

Recipe Options