Stuffed Bell Peppers

Click to add
Stuffed Bell Peppers
to your Favourites...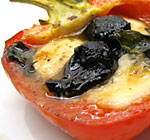 The natural sweetness of the red pepper perfectly compliments the saltiness of the black olives in this light and attractive dish. It is simple to prepare and makes a perfect starter or an accompaniment to a main course.
Ingredients
60g mozzarella (1 ball)
230g red pepper (1½)
30g olives (9)
small bunch oregano
small bunch basil
6 tablespoons olive oil
Preparation Time: 10 minutes
Cooking Time: 20 minutes
Serves: 3
Method
Preheat the oven to 180°c.
Cut the red peppers in half lengthways and remove the seeds and pith from the inside. Remove the stones from the olives, tear the mozzarella into chunks and prepare the herbs.
Place the red pepper halves in a roasting tin, and coat each one with about 1½ tablespoons of the olive oil, then season the inside with salt & pepper.
Divide the oregano equally between the peppers and put it into the bottom of each one. Put the mozzarella and olives into the peppers, then put the basil in and finally drizzle over the remaining oil and season lightly with black pepper.
Put the put the peppers into the oven for 20 minutes.
Remove the peppers from the oven and serve. We served it with a mixed leaf salad.
Back to top

Useful Information
Can it be frozen? No.
Can it be prepared in advance? Yes, to step 4 up to 1 day in advance.
Will leftovers be nice? Yes, for up to 2 days.
Notes
-You could stuff the peppers with anything you like. For example, anchovies, cherry tomatoes, thyme, Parma ham, goats cheese or feta cheese would be a nice addition/substitution.
-The stuffed peppers can also be eaten cold (although re-heating them in the oven until they are warm is much nicer).

Recipe Options