French Beans with Tomato

Click to add
French Beans with Tomato
to your Favourites...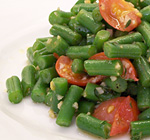 A classic vegetable dish that provides not only great colour, but also a great flavour and goes especially well with lamb.
Ingredients
100g french beans
40g cherry tomatos (4) or normal tomato (½)
1 clove of garlic
1 teaspoon of thyme leaves
1 tablespoon of olive oil
Preparation Time: 12 minutes
Cooking Time: 30 seconds
Serves: 2
Method
Cut the beans into roughly 2cm pieces and carefully put them into a pan of boiling water for 2 minutes. Then drain off the water through a sieve and hold them under cold, running water for 30 seconds.
If using cherry tomatos, cut them into quarters, otherwise, peel the skin off the tomato, chop it into quarters, remove the seeds and then finely dice it (this is called a concasse of tomato). Finely chop the garlic.
In a frying pan, heat the oil, then put everything in, season it with salt & pepper and gently toss or stir it for about thirty seconds.
Serve.
Back to top

Useful Information
Can it be frozen? No.
Can it be prepared in advance? Yes, it can be finished up to 2 days in advance.
Will leftovers be nice? Yes, for up to 2 days.
Notes
- Putting in 2 tablespoons of roughly chopped black olives (especially Katamala) with everything else during stage 3 makes a nice addition to this dish.
- It can also be eaten cold as a salad.

Recipe Options