Fennel Salad

Click to add
Fennel Salad
to your Favourites...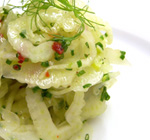 This is a very light, fresh and wonderfully fragrant tasting salad that goes exceptionally well with fish.
Ingredients
1 fennel bulb (approximately 1 bulb)
1 teaspoon finely diced red chilli
1 tablespoon of finely chopped chives
Juice of 1 lemon
1 tablespoon of olive oil
Preparation Time: 10 minutes (+ 30 minutes marinading)
Cooking Time: N/A
Serves: 2
Method
Remove the root base of the fennel, trim off the stems and very thinly slice the fennel, cutting across the bulb.
Put the sliced fennel into a bowl, add the lemon juice and oil, season it with salt & pepper and put it into the fridge for 30 minutes to allow it to marinade.
Remove the fennel from the fridge, mix in the chives and chilli and serve.
Back to top

Useful Information
Can it be frozen? No.
Can it be prepared in advance? Yes, up to 1 day to stage 2.
Will leftovers be nice? No.
Notes
- This goes very well with hot or cold fish dishes.
- The lemon juice performs a variety of functions, one of which is to prevent the fennel from turning brown, another is to help soften the fennel flesh and also, the acid in the juice neutralises the alkaline in the chilli, softening the spicy heat while keeping its flavour.

Recipe Options