Courgette Linguini

Click to add
Courgette Linguini
to your Favourites...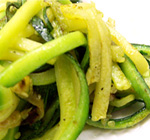 A simple courgette dish that transforms the humble courgette into an interesting and flavoursome vegetable accompaniment.
Ingredients
1 courgette (approximately 200g)
1 tablespoon of olive oil
Preparation Time: 10 minutes
Cooking Time: 1 - 2 minutes
Serves: 2
Method
Cut the courgette lengthways into ½cm thick slices and then cut each slice into ½cm diameter strands (alternatively, use a specialist peeler or a mandolin).
Heat the oil in a frying pan and fry the courgette over a medium heat for 1 - 2 minutes until it is soft and only just beginning to turn light brown.
Season with salt & pepper and serve immediately.
Back to top

Useful Information
Can it be frozen? No.
Can it be prepared in advance? Yes, up to 1 hour to stage 1.
Will leftovers be nice? No.
Notes
- This can be done with any vegetable that will hold the shape without breaking, such as carrots or parsnips (although these will need blanching first).

Recipe Options