Raw Cabbage, Cucumber and Chilli Salad

Click to add
Raw Cabbage, Cucumber and Chilli Salad
to your Favourites...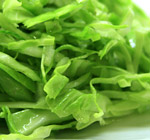 RAW CABBAGE! I hear you say. Yes thats right, raw cabbage. This salad is very versatile and can be paired with many dishes, in particular curries. It cuts through any rich dish balancing the whole meal with a delightful textual crunch. Its also very good for you.
Ingredients
90g pointed cabbage (3 leaves)
60g cucumber (about 6cm)
10g mild green chili (1, about 5cm long)
juice of 1 lemon
1 teaspoon of olive oil
Preparation Time: 10 minutes
Cooking Time: n/a
Serves: 3
Method
Peel the leaves off the cabbage, wash them, then cut out the woody stem from the middle of the leaf. Finely slice the cabbage.
Cut the cucumber into four lengthways, then finely slice it. (Optionally, as we did, you can remove the seeds from the cucumber before slicing it.)
Cut the chilli in half, remove the seeds and the white pith and then finely slice the chilli.
Put the cabbage, cucumber and chilli into a mixing bowl, add in all the other ingredients and stir it around so that everything is evenly coated.
Serve.
Back to top

Useful Information
Can it be frozen? No.
Can it be prepared in advance? Yes, it can be finished up to 1 hour in advance.
Will leftovers be nice? No. The idea here is fresh as possible.
Notes
- To add a touch of contrasting colour to the salad try substituting red chili for the green chili.

Recipe Options