Sautéed Asparagus

Click to add
Sautéed Asparagus
to your Favourites...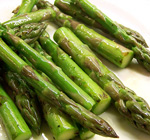 A simple dish that relies heavily on the quality of the raw ingredients and a light touch by the chef.
Ingredients
15 asparagus spears
1 tablespoon of lemon juice
3 tablespoons of olive oil
Preparation Time: 5 minutes
Cooking Time: 2 minutes
Serves: 3
Method
Hold the asparagus at either end and snap it where it naturally breaks, discard the root end.

Cover the asparagus with the olive oil and season with salt & pepper.
Heat a dry frying pan until it is very hot, then tip in the contents of the bowl and sauté the asparagus for 1 minute if they are very thin, 2 minutes if they are medium or 3 minutes if they are very thick. Keep them moving in the pan.
Add the lemon juice, give it one last toss and serve immediately.
Back to top

Useful Information
Can it be frozen? No.
Can it be prepared in advance? Yes, up to 3 days to stage 1.
Will leftovers be nice? Yes, for 2 days if eaten cold.
Notes
- The snapped off root end of the asparagus can be used to make the stock in asparagus soup.

Recipe Options