Tomato Salsa

Click to add
Tomato Salsa
to your Favourites...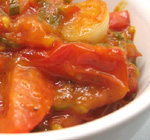 This tomato salsa is really easy and quick to make but has an intense and pleasantly spicy flavour that is infinitely better (and cheaper!) than anything you can buy in a jar in a supermarket.
Ingredients
300g cherry tomatoes
40g spring onions (2)
15g red chilli (1)
1 tablespoon of lemon juice
2 tablespoons of olive oil
Preparation Time: 5 minutes
Cooking Time: 7 minutes
Serves: 4-5
Method
Remove the seeds and the pith from the chilli, remove the root from the spring onions. Then finely chop the chilli, finely slice the spring onion and quarter the cherry tomatoes.
Put the oil into a frying pan over a medium heat and, when the oil is hot, put in the tomato and chilli.
Cook the chilli and tomato for about 5 minutes, until they have become soft and pulpy.
Stir in the spring onion, cook it for 2 minutes then add the lemon juice and season it with salt & pepper.
Serve, either hot or cold.
Back to top

Useful Information
Can it be frozen? Yes.
Can it be prepared in advance? Yes, it can be finished up to 3 days in advance.
Will leftovers be nice? Yes, for up to 3 days.
Notes
- This salsa works very well with fish or chicken (or, actually, any other meat) but also works very well as a dip for crisps, chips or nachos.

Recipe Options