Shellfish Sabayon

Click to add
Shellfish Sabayon
to your Favourites...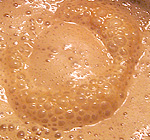 An extremely flavoursome, restaurant style foam sauce that looks very impressive and is a perfect accompaniment to almost any fish dish.
Ingredients
200g prawn shells/heads
60g onion (½)
60g carrot (1)
1 clove of garlic
3 sprigs of dill
2 sprigs of parsley
2 teaspoons of tomato purée
150ml brandy
250ml fish stock
750ml water
150ml whipping cream
1 tablespoon of vegetable oil
Preparation Time: 5 minutes
Cooking Time: 1 hour
Serves: 4
Method
Peel and chop the onion, carrot and garlic.
Heat the oil in a pan, add the vegetables and fry them until they are a golden brown colour.
Add the prawn shells/heads and fry until they have turned pink.
Add the tomato purée, cook for a further two minutes, then add the brandy and boil until it has become syrupy.
Add the fish stock and the herbs and boil until it has reduced by half.
Add the water, turn down the heat to a gentle simmer and cook until it has again reduced by a half.
Strain the liquid through a fine sieve into another pan and cook it until there is about 3 tablespoons of liquid left in the pan, then remove it from the heat.
Whip the cream to the soft peak stage, then return the sauce pan to the heat. When the sauce starts to boil, add all of the whipped cream and whisk it vigourously over a high heat until it has become foamy and doubled in volume.
Serve instantly.
Back to top

Useful Information
Can it be frozen? No.
Can it be prepared in advance? Yes, up to 2 days to stage 7 (Step 8 should be the very last thing you do before serving the meal).
Will leftovers be nice? No.
Notes
- Admittedly, this is a cheats method of making a sabayon because it does not use egg yolks, a double boiler and a load of elbow grease, but it does produce a lighter sauce. This sort of sauce is also referred to as a cappuccino sauce.
- Langoustine, crayfish or lobster shells can also be used as an alternative to prawn shells.

Recipe Options