Red Pepper Sauce

Click to add
Red Pepper Sauce
to your Favourites...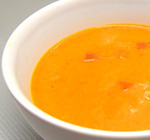 A tasty, vibrantly coloured, sweet red pepper sauce that works very well with fish, pork and chicken.
Ingredients
2 red bell peppers
10g chopped shallot
4 teaspoons of sugar
4 tablespoons of water
2 tablespoons of olive oil
2 teaspoons of lemon juice
Preparation Time: 10 minutes
Cooking Time: 30 minutes
Serves: 2 - 3
Method
Chop each pepper in half, remove the seeds, green stalk and pith, and set aside one of the halves.
Roughly chop the other three halves into cubes.
Heat up the oil in a pan, add the chopped pepper, shallot and sugar, season with salt & pepper and cook over a medium heat until the red pepper is soft.
Add the water and continue to cook for a further 5 minutes with the lid on.
Tip the contents of the pan into a food processor and blend until it is smooth.
Pour the sauce through a sieve into another pan.
Finely dice the other remaining red pepper-half and gently fry it in a teaspoon of olive oil for 1 minute (to slightly soften it). Then add it, with the lemon juice, to the sauce.
Gently reheat the sauce and serve.
Back to top

Useful Information
Can it be frozen? Yes.
Can it be prepared in advance? Yes, it can be finished up to 1 day in advance.
Will leftovers be nice? Yes, for up to 2 days.
Notes
- To improve the flavour of the sauce, prepare it the day before you need it and keep it in the fridge overnight.
- To spice up the suace, you could add a couple of drops of Tobasco sauce or half a finely diced chilli.

Recipe Options