Pesto

Click to add
Pesto
to your Favourites...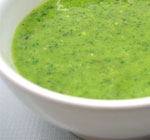 Originally invented during Roman times, this fragrent and vividly coloured sauce is highly versatile and has a wide variety of uses, from a pasta sauce to a marinade or even as a condiment.
Ingredients
40g pine nuts
5g garlic (2 cloves)
10g parsley
20g basil
Zest of 1 lemon
25g parmesan
2 tablespoons of lemon juice
150ml olive oil
Preparation Time: 5 minutes
Cooking Time: n/a
Serves: 2–10
Method
Zest the lemon, grate the parmesan, peel the garlic and prepare the rest of the ingredients. Pour the oil into a pouring jug.
Put everything, except the oil, into a food processor. Season it with salt & pepper.
Turn on the food processor and pour in all of the oil in a steady stream, then turn off the food processor.
Serve.
Back to top

Useful Information
Can it be frozen? Yes.
Can it be prepared in advance? Yes, it can be finished up to 5 days in advance (keep it covered in the fridge).
Will leftovers be nice? Yes, for up to 5 days.

Recipe Options