Mint Sauce

Click to add
Mint Sauce
to your Favourites...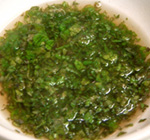 The definitive method for making mint sauce, the traditional accompaniment to lamb.
Ingredients
5g of fresh mint leaves
½ teaspoon of sugar
1 tablespoon of boiling water
2 tablespoons of vinegar (preferably malt vinegar)
Preparation Time: 10 - 15 minutes
Cooking Time: N/A
Serves: 2 - 3
Method
Finely chop the mint leaves and put them into a small bowl.
Sprinkle the sugar over the chopped mint.
Pour over the boiling water, stir and allow it to infuse for 5 - 10 minutes (don't let it infuse for any longer as it will become cloudy).
Add the vinegar, stir and serve.
Back to top

Useful Information
Can it be frozen? No.
Can it be prepared in advance? Yes, it can be finished up to 2 hours in advance.
Will leftovers be nice? No.
Notes
- Mint sauce is a traditional accompaniment to roast lamb. It works because the fresh taste and the sharpness of the sauce cuts through the fattiness of the lamb.

Recipe Options