Mayonnaise

Click to add
Mayonnaise
to your Favourites...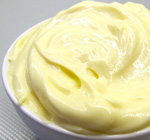 This delicious sauce, some might say the king of all sauces, is exceptionally versatile and works very well with virtually anything, even other sauces.
Ingredients
2 fresh egg yolks
1 tablespoon of white wine vinegar
½ teaspoon of Dijon mustard
¼ teaspoon of salt
150ml vegetable oil (or sunflower oil)
1 teaspoon of lemon juice
Preparation Time: 10 minutes
Cooking Time: N/A
Serves: 2 - 10 (makes about )
Method
In the bowl of a food processor, place the egg yolks, vinegar, mustard and salt.
Blend it for 2 minutes (it will become much paler in colour).
Put the oil into a pouring jug.
Turn on the food processor again and, while it is running, pour in all the oil in a slow, steady stream. The mixture will slowly turn white as the oil and egg yolks are emulsified.
Allow the food processor to run for 1 minute before adding the lemon juice while the food processor is running. Then, after 30 seconds, turn off the machine.
Use as required.
Back to top

Useful Information
Can it be frozen? No.
Can it be prepared in advance? Yes, it can be finished up to 3 days in advance.
Will leftovers be nice? Yes, for up to 3 days from the day it is made.
Notes
- Because it is made with unpasteurised, raw egg yolks, it should not be consumed by pregnant women, very young children or the elderly.
- If you do not have a food processor, the mayonnaise can be made by hand in a bowl using a whisk and 500g of elbow-grease.
- Do not be tempted to use olive oil because it will taste bitter.
- Mayonnaise is also the base for tartar sauce.

Recipe Options