Bread Sauce

Click to add
Bread Sauce
to your Favourites...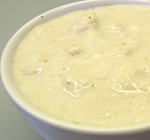 Bread sauce is traditionally served with roasted poultry such as chicken or pheasant and, while not the most beautiful of sauces, it goes very well with the meat.
Ingredients
130g stale bread (without the crusts)
400ml milk
90g onion (1)
1 clove of garlic
1 bay leaf
2 tablespoons of double cream
6 cloves
¼ teaspoon grated nutmeg
Preparation Time: 40 minutes
Cooking Time: N/A
Serves: 4 - 5
Method
Peel and roughly chop the onion and garlic, tear the bread into roughly 1cm - 2cm pieces by hand and put in a bowl.
Put the milk, onion, cloves and bay leaf into a sauce pan, grate in the nutmeg and bring to the boil.
Remove from the heat and leave it to infuse for 30 minutes.
Bring the milk up to the boil again and then pour it onto the bread, through a sieve. Discard the onion and the other ingredients left in the sieve.
Season it with salt & pepper and stir it all together. Then let it sit (to absorb the milk) for 15 minutes.
Stir in the cream and serve.
Back to top

Useful Information
Can it be frozen? Yes.
Can it be prepared in advance? Yes, it can be finished up to 1 day in advance.
Will leftovers be nice? Yes, for up to 1 day.
Notes
- Brown bread can also be used but white bread looks more... appealling.
- Bread sauce is a traditional accompaniment to roast birds such as chicken, turkey or pheasant.

Recipe Options