Apple Sauce

Click to add
Apple Sauce
to your Favourites...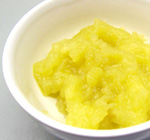 One of the simplest of sauces, this apple sauce is an excellent and traditional accompaniment to roast pork.
Ingredients
100g cooking apple
15g sugar
2 tablespoons of water
1 teaspoon of lemon juice
Preparation Time: 5 minutes
Cooking Time: 10-15 minutes
Serves: 2
Method
Peel and core the apple.
Chop the apple into roughly 1cm pieces.
Put the apple into a saucepan with the water and sugar.
Over a gentle heat, cook the apple until it has broken down and has formed a thick purée (about 10 - 15 minutes).
Stir in the lemon juice and serve.
Back to top

Useful Information
Can it be frozen? Yes.
Can it be prepared in advance? Yes, it can be finished up to 3 days in advance.
Will leftovers be nice? Yes, for up to 3 days.
Notes
- The ideal apple to use is a cooking apple such as Bramley or Cox because they break down easily when cooked, however, any apple can be used (but it might need a bit of mashing).
- This sauce is traditionally served with pork because its sweet and sharp taste compliments the meat.

Recipe Options