Chicken Wings

Click to add
Chicken Wings
to your Favourites...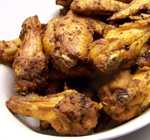 This recipe produces spicy, tangy chicken wings that are suitable for roasting or the barbeque.
Ingredients
500g chicken wings
1 tablespoon of soy sauce
1 tablespoon of lemon juice
2 tablespoons of runny honey
2 tablespoons of tomato ketchup
1 tablespoon of sesame oil
1 teaspoon of ground ginger
1 teaspoon of ground coriander
1 teaspoon of paprika
1 teaspoon of Thai seven spice
1 clove of garlic (crushed)
a few drops of Tabasco
2 tablespoons plain flour
salt & pepper
Preparation Time: 10 minutes (+ marinade time)
Cooking Time: 35 minutes
Serves: 2 - 3
Method
Put all the ingredients (except for the chicken wings) into a bowl that is large enough to hold the wings and mix them all together.
Chop the wings in half at the second joint from the tip using a cleaver or sturdy knife.
Put the wings into the bowl and coat them all thoroughly with the mixture, making sure the marinade gets into all folds and elbows.
Leave the wings to marinade in the bowl, preferably over-night, in the fridge.
Preheat the oven to 190°c.
Place the wings on a baking tray, making sure they are evenly spaced apart, and put them into the oven for 35 minutes, turning them over once half way through cooking.
Serve immediately.
Back to top

Useful Information
Can it be frozen? No.
Can it be prepared in advance? Yes, up to 2 days to stage 4.
Will leftovers be nice? Yes, for up to 3 days.
Notes
- When marinading the wings, to save space and to ensure an even covering of the mixture, place the wings and marinade in a plastic bag and secure tightly.
- When they come out of the oven, the wings may be slightly charred. This is fine and in fact adds to the flavour.

Recipe Options