Satay Chicken

Click to add
Satay Chicken
to your Favourites...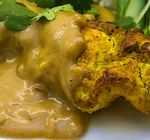 This fabulous and classic dish is simply delicious. Its not too hot and has a great balance for all the senses. It is just wonderful as a week night dinner or served at a buffet.
Ingredients
For the satay sauce:

1 tablespoon tamarind
6 teaspoons sugar
340g crunchy peanut butter
1 tablespoon fish sauce
1 tablespoon red thai curry paste
400ml coconut milk

For the spice rub:

1 teaspoon turmeric
1 teaspoon ground coriander
½ teaspoon ground ginger
¼ teaspoon cinnamon
½ teaspoon chili powder
¼ teaspoon onion salt
¼ teaspoon black pepper
1 tablespoon milk
500g chicken breasts
Preparation Time: 10 minutes
Cooking Time: 20 minutes
Serves: 4
Method
In a saucepan, place the coconut milk and red Thai curry paste and bring it to the boil. Simmer the mixture until it has reduce by half.
Add all the other sauce ingredients to the pan and mix them in well. Then bring it back to a simmer and let it thicken. It should have the consistency of melted chocolate (if it is too thick, add some water). Keep stirring the pan with a spatula so it doesn't burn on the bottom of the pan. When it is ready, take it off the heat and cover it until it is needed.
Turn your grill onto the very hot setting.
Mix all the dry spice rub ingredients together in a bowl, then add the milk and mix it to a paste. Cut your chicken into thick strips and rub the spice rub onto them. Then skewer the chicken onto kebab sticks
Put the chicken skewers under the grill and cook them for about 10 minutes, turning them over half way through. Check the chicken is cooked by cutting into the thickest part of the meat. If it is pink and not completely opaque white, put them back under the grill for another few minutes.
Serve. We served it with the Satay sauce, fragrant Thai rice and a hot and crisp salad of cucumber, green chili, spring onions, lime zest and juice.
Back to top

Useful Information
Can it be frozen? Yes, the sauce will freeze for up to 3 months.
Can it be prepared in advance? Yes, the sauce can be finished up to two days in advance.
Will leftovers be nice? Yes, the chicken is delicious in a sandwich!!!
Notes
- This dish can be made with lamb or beef with the same spice rub and is frankly brilliant when barbecued and served with the Satay sauce on the side.

Recipe Options