Poached Chicken

Click to add
Poached Chicken
to your Favourites...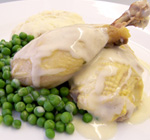 A simple and easy dish, whole poached chicken can be catered to anyones tastes and can make a healthier alternative to roasting.
Ingredients
1 chicken
1 small bunch of tarragon
1 small bunch of parsley
1 sprig of thyme
2 bay leaves
1 sprig of rosemary
6 juniper berries
10 black peppercorns
190g roughly chopped shallot (6) or onion (2)
2 peeled and sliced cloves of garlic
110g diced carrot (2)
100g roughly chopped celery (2 sticks)
120g roughly chopped leek (1 large)
about 2½ litres of water
Preparation Time: 10 minutes
Cooking Time: 40 minutes
Serves: 3 - 4 (depending on chicken size)
Method
Prepare all of the ingredients.
Place the chicken in a large pot and add the rest of the ingredients, then pour in enough water to cover the chicken.
Bring it up to the boil, then turn down the heat to a gentle simmer and cook the chicken for 40 minutes with the lid on.
Remove the chicken and serve. We served it with peas, mashed potato and a cream sauce.
Back to top

Useful Information
Can it be frozen? No.
Can it be prepared in advance? Yes, up to 1 day to stage 1.
Will leftovers be nice? Yes, for up to 3 days.
Notes
- You can make a chicken stock by keeping the rest of the ingredients and the liquid in the pot. Remove the flesh from the chicken, place the bones of the chicken back in the pot and continue to simmer for 1 more hour, skimming off the scum from the surface. After that, pass the liquid through a fine sieve into another pot, discard the solids and use the chicken stock as required.

Recipe Options