Parisienne Potatoes

Click to add
Parisienne Potatoes
to your Favourites...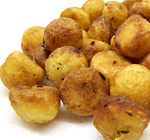 This is a classic dish of round balls of potato, fried in butter.
Ingredients
300g floury potatoes
1 tablespoon of olive oil
15g unsalted butter
1 sprig of thyme
1 clove of unpeeled garlic
Preparation Time: 10 minutes
Cooking Time: 10 minutes
Serves: 2
Method
Peel the potatoes.
Using the largest scoop of a melon-baller (ideally about 2cm across), scoop out balls from the potato (aim for about 10 per person).
Cook the balls of potato in boiling, salted water for five minutes, drain and then put them into a bowl of cold water (a process known as blanching).
When they are cold, drain the potato balls and pat them dry with kitchen paper.
In a frying pan, heat the oil and butter.
When the butter is sizzling, put in the balls of potato, thyme and lightly crushed clove of garlic.
Fry the balls of potato until they are golden brown all over.
They are cooked when a knife goes through the potato easily.
Drain off the excess fat on a piece of kitchen paper, discard the thyme and garlic, and serve.
Back to top

Useful Information
Can it be frozen? No.
Can it be prepared in advance? Yes, up to 3 days to stage 1 if they are kept submerged in water in the fridge.
Will leftovers be nice? No.
Notes
- The potato that is left over from stage 1 can be kept for up to 3 days to use in mashed potato if it is stored submerged in water in the fridge.

Recipe Options