Potato in Parchment

Click to add
Potato in Parchment
to your Favourites...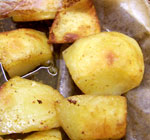 This is a buttery, golden brown alternative to normal roast potatoes using an unusual but effective cooking method.
Ingredients
400g of uncooked, floury potatoes
100g of butter
1 tablespoon of olive oil
greaseproof paper
Preparation Time: 10 minutes
Cooking Time: 1 hour
Serves: 3
Method
Pre-heat the oven to 200°c.
Peel and chop the potato into inch-square(ish) pieces.
Cube the butter.
In a roasting tin, put a piece of greaseproof paper twice the width of the tin.
Put the potato and butter onto the greaseproof paper, drizzle with the oil and season with salt & pepper.
Fold over the other half of the greaseproof paper and seal it into a parcel.
Bake in the oven for 1 hour, carefully turning the parcel over after 30 minutes.
Remove from the parcel and serve.
Back to top

Useful Information
Can it be frozen? No.
Can it be prepared in advance? Yes, up to 1 hour to stage 6.
Will leftovers be nice? No.
Notes
- Cooking the potatoes in greaseproof paper seals in the moisture of the potato, preventing them from drying out. The steam rises to the upper half of the parcel while the butter browns the lower half of the potatoes. Turning them over halfway through cooking ensures the potatoes are brown on all sides.

Recipe Options