Pan Roast Potatoes

Click to add
Pan Roast Potatoes
to your Favourites...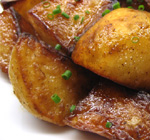 This is a really interesting potato dish that gives the potato a light, buttery, moist inside with a glazed, sticky outside and a wonderful, deep golden brown colour.
Ingredients
300g-450g floury potato (100g-150g potatoes per person)
30g unsalted butter
2 tablespoons olive oil
50ml white wine
1 tablespoon of chopped chives (optional)
Preparation Time: 5 minutes
Cooking Time: 25 minutes
Serves: 3
Method
Peel the potatoes and chop them into roughly 2cm-3cm pieces.
Put the oil and butter into a frying pan over a low heat then, when the butter is bubbling, put in the potatoes and mix them around to coat them in the oil.
Cook them for about 25 minutes turning them over every 5-10 minutes. They are cooked when a knife easily goes through them and they feel like a cooked roast potato.
Drain off any fat left in the pan, pour in the wine and allow it to reduce for about 1 minute.
Put them onto the serving dish, sprinkle over the chives and serve.
Back to top

Useful Information
Can it be frozen? No.
Can it be prepared in advance? No.
Will leftovers be nice? No.

Recipe Options