Pan Chips

Click to add
Pan Chips
to your Favourites...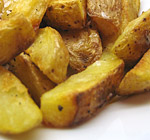 This is an alternative to deep fried chips, it's a lot safer and does not require huge quantities of oil. The results are surprisingly good, crisp on the outside and light and fluffy on the inside.
Ingredients
100g – 150g potato per person
4 tablespoons of olive oil
Preparation Time: 5 minutes
Cooking Time: 10 minutes to boil, 20 minutes to fry
Serves: n/a
Method
Cut the the potatoes into chips about 1½cm thick. You can peel the potatoes but we recommend leaving the skins on because that is where all the flavour and nutrients are.
Boil the chips for about 10 minutes in salted water until they are mostly but not completely cooked, then drain them and put them onto a sheet of kitchen paper for about 3 minutes until they have dried.
Heat the oil in a large frying pan over a medium heat and then add the chips carefully so you don't splash hot fat everywhere. Gently fry the chips for about 20 minutes until they are crisp and golden brown.
Transfer the chips from the pan onto a piece of kitchen paper to allow some of the excess fat to drain away.
Serve, sprinkled with beautiful flakes of the finest sea salt known to mankind. Or just table salt.
Back to top

Useful Information
Can it be frozen? No.
Can it be prepared in advance? No.
Will leftovers be nice? No.
Notes
- You could try adding some finely chopped garlic, herbs or chili to the chips about a minute before you finish frying them in stage 4.

Recipe Options